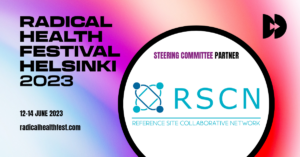 We would like to inform you about an important upcoming event that will be of interest to you and stakeholders in your AHA(L) Reference Site region. Radical Health Festival, is taking place in Helsinki on 12th to 14th June 2023.
As the list of challenges facing health systems is only getting longer – ageing populations, workforce shortages and burnouts, rising lifestyle-related cardio-metabolic diseases, unsustainable payment models, siloed information, lack of focus on prevention, etc – the event is driven by a genuine and shared ambition to transform healthcare, deliver value, improve clinical and financial outcomes, and make health systems sustainable.
The RSCN is one of the Partners supporting Radical Health Festival and we align with its objectives and values.
Under the patronage of 3 Finnish Ministries (Social Affairs and Health, Foreign Affairs, and Economic Affairs and Employment), the concept of the event is based on collaboration and combines the expertise of renowned global content contributors. 25+ partners have already joined the movement and in addition to the RSCN there is also the European Society of Cardiology, SITRA, CHiME, Frontiers, H-ISAC, TEHDAS, COCIR, IANPHI, EHTEL, to name but a few.
There will also be a marketplace, gathering all key stakeholders: patients and patient organizations, policy-making authorities, public health agencies, hospitals and health systems, pharma and medtech groups, public and private insurers, major IT vendors as well as startups and entrepreneurs, clinicians and health professionals, investors, academics, and more.
The event will host over 150+ top speakers from around the world, including Shafi Ahmed, Megan Coder, Jhonatan Bringas Dimitriades, Miikka Korja, Marie Ennis-O'Connor, Tony Estrella, Donna Henderson, Gerhard Hindricks, Helena Langšádlová, Duncan Selbie, Päivi Sillanaukee, Bryan Sivak, Petra Wilson and many more.
The RSCN will be organising a number of sessions within Radical Health Festival, further information will shortly follow.